I finally have a chance to try My Beauty Diary Mask. I have wanted to try this mask brand since the first time I saw it at
Eki's blog post.
Then I noticed that many beauty bloggers have tried also and they made such great reviews.
The bad news is, MBD is so hard to get in Indo and I don't have credit card, so I can't buy it from overseas online shop like sasa or amazon etc.
After tried to find local importer and I got it from facebook. For Indonesian who wants to try MBD. I recommend you to go
here
. The range selections are not to many, but it's a good start for beginner like me.
How To Use My Beauty Diary Mask:
1. Cleanse face thoroughly before applying mask
2. Excess essence from the packaging may be applied on the neck by massage
3. After 20 minutes, remove mask and gently massage face to assist absorption
4. Rinsing is not required
5. You may apply toner, moisturizer etc. after application
6. Use daily for maximum effect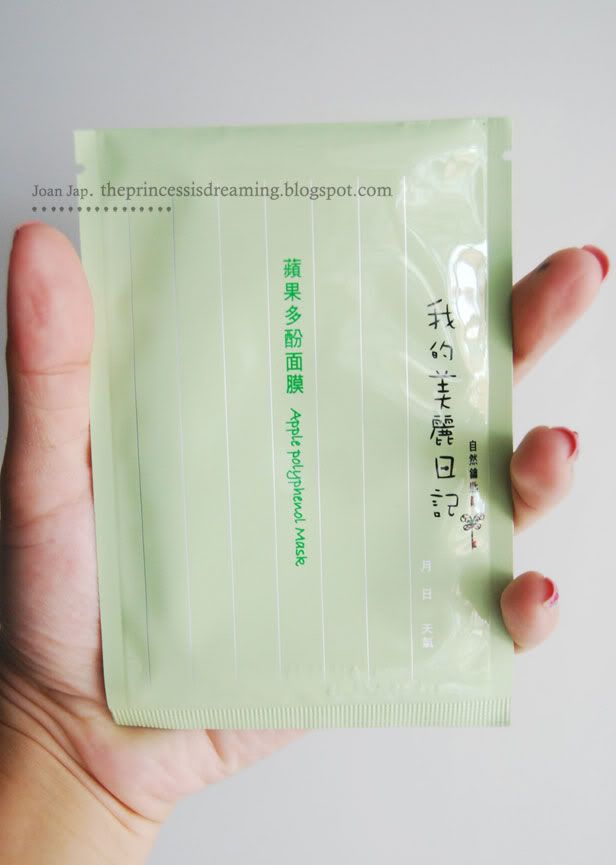 First try:
MBD Apple Polyphenol
Purpose:
Tightening pores, regulates sebum secretion
All skin types especially skin with enlarged pores
Characteristics:
The natural acid present in the Hibiscus Sabdariffa Extract has the same effect as AHAs helping to remove surface dead skin but does not stimulate the skin. It also improves and prevents pores enlarging, regulating sebum secretion. This helps to tightens pores, and improves the skin texture.
Roselle Acid, Hyaluronic Acid, Gentle Nano
First time tear the packaging and pulled out the sheet, I had an awkward moment. I didn't know how to use it because the sheet was folded in a strange way (in my head). I've never used sheet mask before, so that was my first experience xp.
I like the scent and how the sheet felt so cold and fresh on my skin. It was really really good! really!
MBD Mixed Berry
Purpose:
Brightening and Firming
Skin type:
All skin types, especially uneven and rough skin tone
Purified Water, glycerine, 1,3-Butylene Glycol, Propylene Glycol, Tween 20, Triethanolamine, Copolymer, Methyl Paraben, hydrolyzed albumin, Citric Acid, hyaluronic acid, Vaccinium Angustifolium (Blueberry) Fruit Extract, Morus Nigra Fruit Extract, Rubus Idaeus(Raspberry) Fruit Extract, Green Tea Extract, saccharum officinarum(sugar cane)extract, Acer Saccharum (Sugar Maple) Extract, Citrus Anrantium Dulcius(Orange)Fruit Extract, Citrus Medica Limonum (Lemon)Peel Extract, Vaccinium Myrtillus (Cowberry) Fruit Extract, Lithospermum Officinale Extract, Squalane, Styrene Acrylates Copolymer, Dimethylsilanol Hyalunorate, Dimethicone, Polyglutamic Acid, Carbormer, Xanthan Gum, Sodium Hydroxide, Fragrance
I love the scent tooo... The blueberry scent smelled very strong. I noticed it since the first time putting the sheet to my face.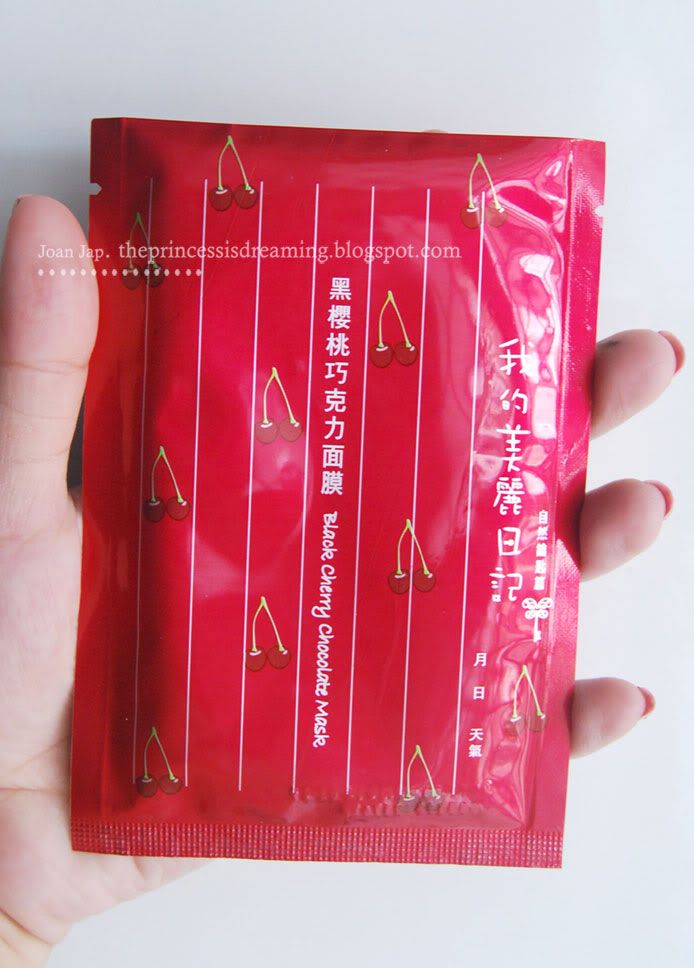 MBD Black Cherry Chocolate
Rejuvenate, hydrate, and give new firmness to the facial skin.
Skin Type:
All skin types, especially women with dull or loose skin. Any women over 30 who want to keep their skin from developing wrinkles and women who need to give some renewed firmness should give this one a try.
Characteristics:
This series aims at restoring damaged, dehydrated and tired look skin as well as brightening dull and uneven skin tone for a younger and fairer look. Your beauty diary is sure to be recorded with improved looks day after day! The main ingredients have been clinically proven to create firm, elastic, and smoother skin when used on a regular basis. Now, these special minerals have been combined with natural plant moisturizing ingredients into a wearable mask meant to soothe and hydrate the skin. The Black Cherry Chocolate Rejuvenating Mask by My Beauty Diary not only improves the hydration in the surface skin, but also provide a lustrous texture by allowing your skin to function at it's peak. The Hyaluronic acid works hand in hand with embedded Nanospheres to provide for a prolonged hydration effect, rejuvenating your facial skin to a level similar to what you had years ago.
Ingredients:
Purified Water, Propylene Glycol, 1,3 Butylene Glycol, Water Cress Extract, Glycerine, Belgian Chocolate Extract, Nanospheres, Aloe Extract, Albumin, Hibiscus Sabdariffa Extract, Bladder Wrack, Gentian Extract, Hyaluronic Acid, Arnica Extract, Bio-Active Silanois, Lemon Extract, Carbomer, Triethanolamine, Sodium Hydroxide, Xanthan Gum, Citric Acid, Butyl Paraben, Methyl Paraben, Ethyl Paraben, Propyl Paraben, Tween 20, Lactamide
I don't like the scent! It smells weird.
I didn't know if the sheet has already almost expired or what, but I felt that the sheet didn't has lots essence like the others.
Purpose:
Anti-oxidation, brightening, firming
Skin type:
All skin types especially skin which is dull and lacks firmnes
s
Characteristics:
The presence of Anthocyans and Tannins helps to promotes the microcirculation of the skin, allowing the skin to have a natural glow and radiance, maintaining the elasticity and firmness of the skin texture.
Purified water, Propylene Glycol, 1,3-Butylene Glycol, Glycerine, Aloe , Arnica, Vitis Vinifera, Green Tea, Grapefruit, Hyaluronic Acid, Mucopolysaccharides, Yeast Complex, Albumin, Chamomile, Licorice, Nanospheres, Squalane, Watercress, Vitamin E Acetate, Bio-Active Silicones, Carbomer, Triethanolamine, Sodium Hydroxide, Xanthan Gum, Citric Acid , Butyl Paraben, Ethyl Paraben, Propyl Paraben, Methyl Paraben, Dimethicone, Tween 20, Lactamide, Fragrance
It does smell like wine and alcohol, however the scent reminds me of cough syrup I used to consume when I was a kid.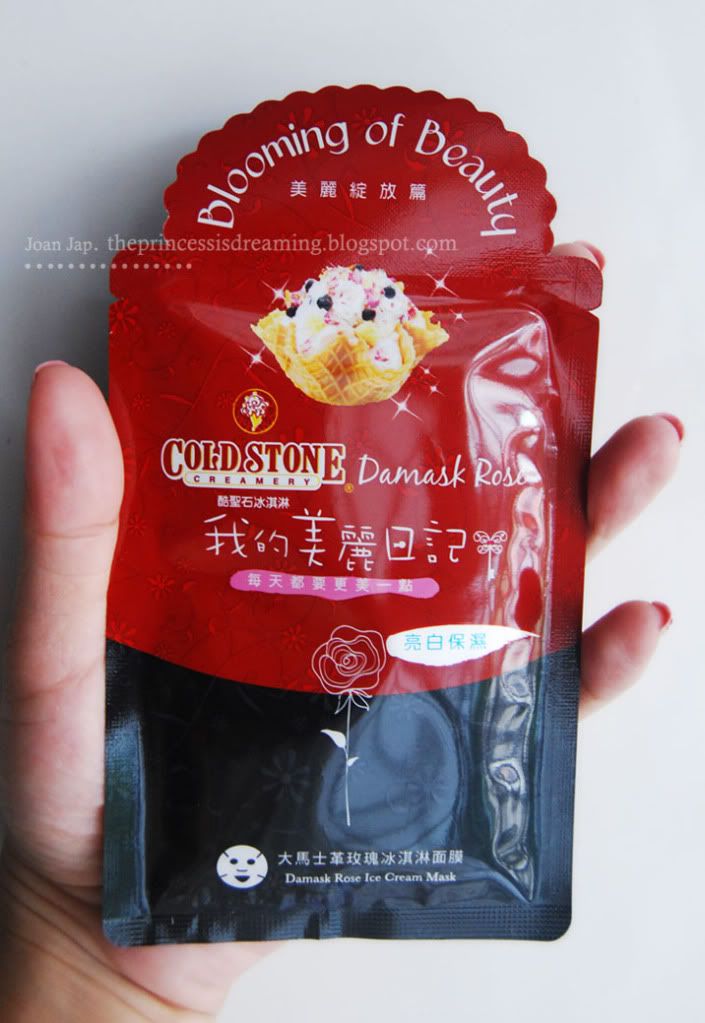 The last one:
MBD Damask Rose Ice Cream
Description:
My Beauty Diary BLOOMING OF BEAUTY Damask Rose Ice Cream Mask is a brightening and moisturizing mask formulated with the highest grade of Damask rose and Cold Stone Creamery from the USA. It delivers an elegant delicate fragrance. The rose extract contained leaves skin fragrant, soft, fair and moisturized. Sweet-scented osmanthus, a sweet grass, and milk protein mildly cleanse and hydrate. Polyhenos of bluberry, raspbaerry and peach take care of the skin. The mask leaves skin delicate, soft, smooth, fair and rosy.
Skin Type:
All skin type/ dry and delicate skin
Ingredients:
Rosa Damascena Flower Extract -> hydrates and soothes
Vaccinium Angustifolium (Blueberry) Fruit Extract, Rubus Idaeus (Raspberry) Fruit Extract -> give anti-oxidizing effect
Prunus Persica Extract -> hydrates
(source:
here
)
-
--------
I love the mask. Very unique scent combination. But it was a little disappointing. I expected to smell more ice cream scent..
Here few pics of me wearing the masks. Please ignore my 'Texas Chainsaw Massacre' faces.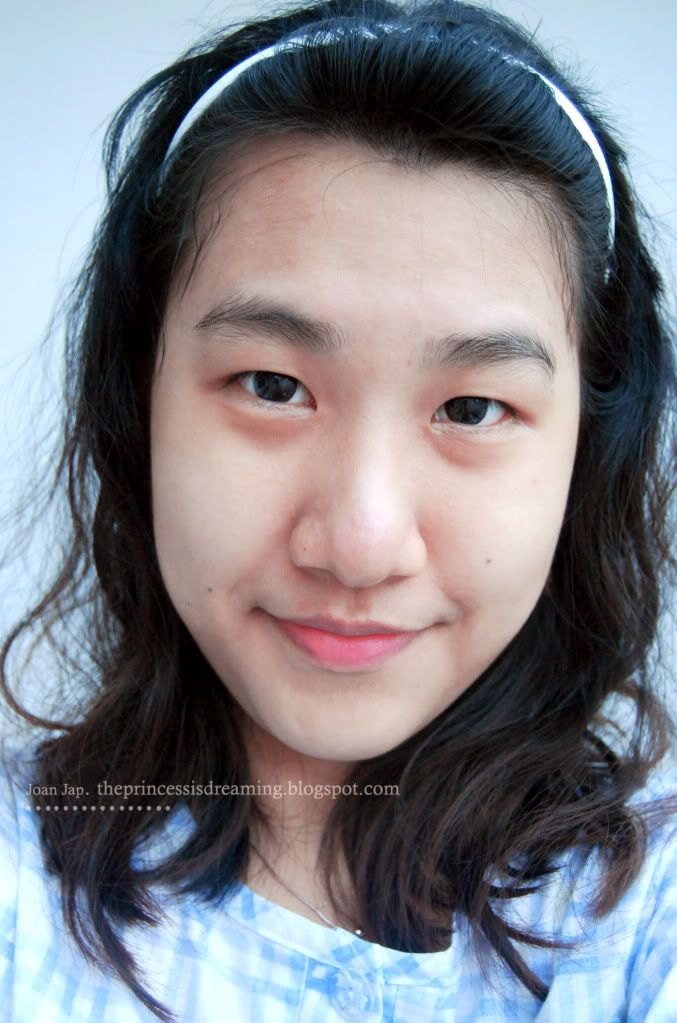 Happy, healthy and refresh face after used the mask.
The conclusion is:
The masks are moisturizing, RICH of essence, refresh and soothes the exhausted skin, nice scents and also affordable.
I can't pick my favorite because actually, I couldn't distinguish the difference between each mask because I only used them once. But I will repurchase few of them (because I don't really love black cherry choco and red wine) and the other types to see more improvement to skin.
I highly recommend this brand!

(just like everyone who has tried it)
Experience yourself guys! You won't regret it! ^^