h, oh! Joan is back!! I've been terribly busy these days and damn internet connection (as always).

I had been searching for BB cream in the past few weeks. I read so many reviews from makeup gurus to bloggers. This is my first BB cream ever, I just don't want to get disappointed after buy the wrong or standard BB cream. My nominees were from Etude House, Missha (Perfect Cover), Skin79 (Hot Pink-I didn't know before, thanks Jen from frmheadtotoe! I was really moved by her recommendation) and The Face Shop (Power Perfection).

At first, because I thought there weren't any Skin79 counter here (apparently I was so wrong xp), so I had to eliminated it and shortly, Missha Perfect Cover BB cream become my strong nominee. It's like everybody and every beauty blogger recommend this BB cream. I was going to order it at online shop when I ended up finding Skin79 counter and I got the tester. I tried the Hot Pink one. I was so impressed, except the smell because it's lot like sunblock. But it's still fine. Suddenly I forgot about Missha, but in the end I went to Missha counter and tested the #23 (#21 is for fair skin tone).

First, my skin felt wet feeling (I don't know the term, maybe dewy finish?). I didn't like it, but after few minutes the feeling slowly disappeared. I think the result was almost the same with the Skin79 Hot Pink, but I had already falling in love with Skin79. Hoho..

So, as soon as I got home, I ordered the Skin79. But instead of bought the Hot Pink one, I chose the Oriental Gold Plus, because this BB cream has new formula. Well, I hope it worth to try I think..

I'll review the Hot Pink first, a tester to be exact.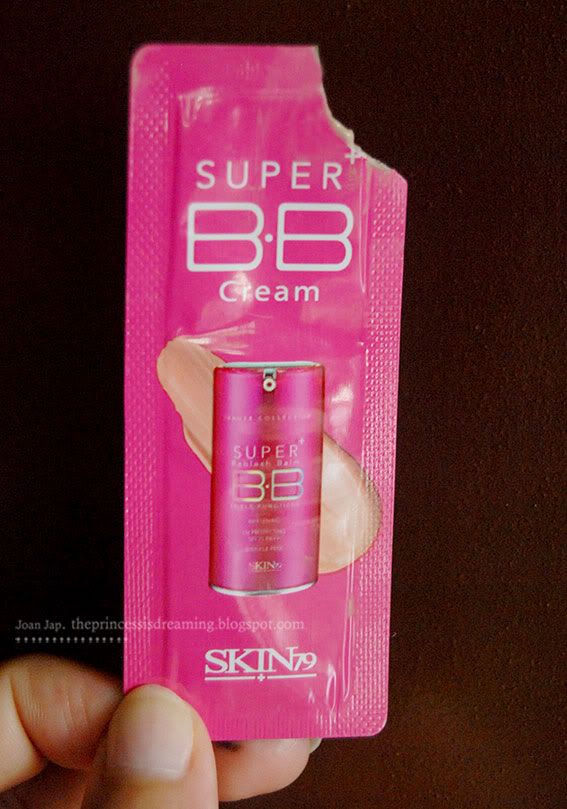 Notice: I have oily skin type.
SKIN79 Hot Pink Super BB Cream (Tester)
What they say in the tester packaging:
SUPER PLUS Beblesh Balm TRIPLE FUNCTIONS
Whitening/ wrinkles improvement Ultraviolet rays interception SPF25 PA++
KFDA 3 functions certification
the triple function beblesh balm protects sun from harmful environment with the extracts of Sun flower and Ivy also makes pure and healthy skin.
First applied, as always, BB cream will look so white in our skin, but then it blended so well. No wet or greasy feeling, and the smell wasn't that bad actually. I think I used the cream pretty thick because my dad immediately noticed that I used a cream! or maybe because of the powder? didn't know..-,-
I have oily skin type, but this can control the oil in my face for few hours. My face looks really smooth after used it, redness all gone..dark circle under my eyes also reduced.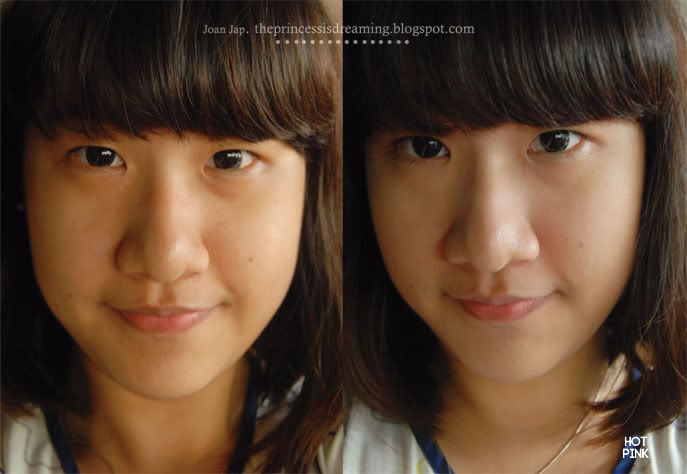 Left: no BB, right: use BB and with powder
ZOOM in to my face used Hot Pink
Overall rating:♥♥♥♥♡ The coverage :♥♥♥♥♥ Texture :♥♥♥♥♥ Oil Control:♥♥♥♥♡ Smell:♥♥♥♥♡
Conclusion: love the tester! it really smoothen my face, reducing redness, dark area and dark circle plus give dewy finish. It feels light in my face.
The different between Hot Pink and Oriental Gold Plus: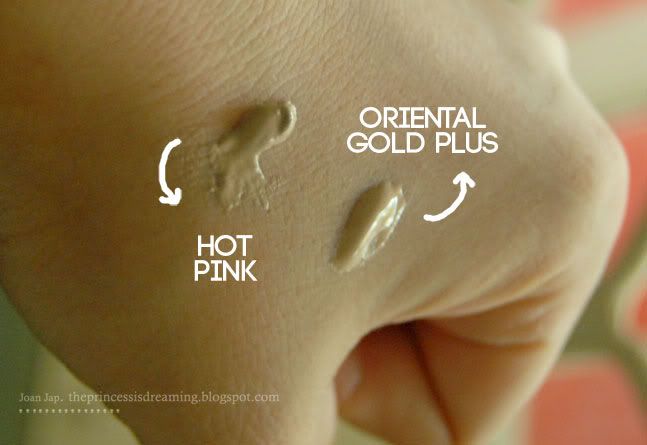 Hot Pink color is more greyish and more transparent when blended to skin.
Can you tell the difference? I can't!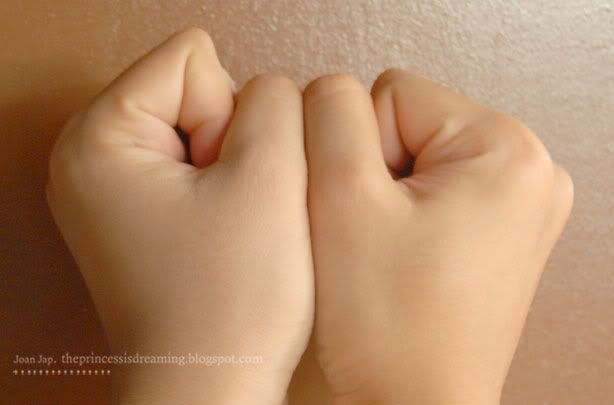 I used the BB cream on the left hand
Now, my purchase is..
SKIN79 THE ORIENTAL Gold Plus BB Cream SPF30 PA++
40 g

Okay, this is what they say in the packaging.
front :
Highly functional ingredients of Oriental Blending and Gold offer vitality and energy to dry and exhausted skin.
UV INTERCEPTION SPF30 PA++
WRINKLE IMPROVEMENT-WHITENING

Back:
KFDA 3 Functions Certification:
Whitening/ Wrinkle Improvement/ UV Interception SPF30 PA++

The triple functional BB cream keeps skin shining and lifting through whitening and wrinkle care effect, making uneven skin tone and skin texture clean with rich feel of hydration softly cohering to skin and protecting skin from UV rays.

Patent ingredients of Oriental Tea Newplex and Peptatox Complex care skin to be sleek and firming by activating the original function of skin with Gold and Caviar Extract and Oriental Sue Formula maintaining ideal condition of skin by keeping optimal skin balance and comfortably soothing skin internally and externally damaged.

DIRECTIONS: Use it proper quantity on the area of your face like patting at the last step of skin care.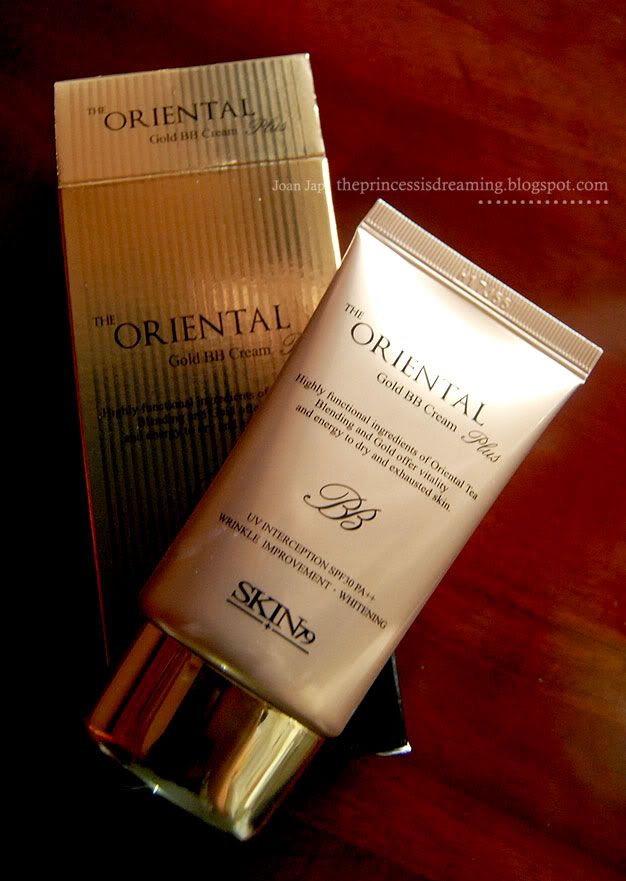 Oriental Gold Plus BB cream comes in two types, tube and fluid. The difference between the two is just the packaging. Mine is tube type, well, I chose this because it's cheaper. hoho..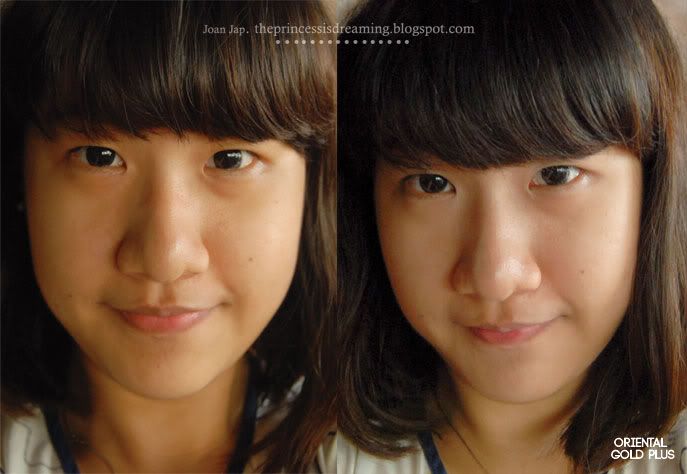 Left: no BB, right: use BB and without powder
Overall rating:♥♥♥♥♡ The coverage :♥♥♥♥♥ Texture :♥♥♥♥ ♡ Oil Control:♥♥♥♥♡ Smell:♥♥♥♡♡
Conclusion: Oriental Gold Plus has more liquid than the Hot Pink one, which I don't like because I have to slowly squeeze the tube or it will come out too much. The other thing is I don't really like the smell. I prefer the sunblock smell in Hot Pink..
but overall my conclusion is pretty much the same with the Hot Pink. Reduce redness, dark circle and smoothen my face.
Final conclusion on these two: Next time, I will purchase the Hot Pink BB cream because it's cheaper and already has a nice coverage to my face. In rupiahs, the cost of Hot Pink in online shop is Rp. 169.000,- (probably about $19.5) while in the mall counter is Rp. 348.000,- ($40.2), Oriental Gold Plus -tube in online shop Rp. 199.000,-($22.9); in mall counter Rp. 364.000,- ($41.9). Oriental Gold Plus - liquid in online shop Rp. 230.000,-($26.5); in mall counter Rp. 550.000,-($63.4).
So, the price of Hot Pink and Oriental Gold Plus are not much different, right?