s I promised, now I'm sharing you the prize from Stella Lee and Dunia Kutek because I won their 2nd prize of O.P.I. Hurraahh! Thank you so much guys!! I was so excited about what colors I would get (Who doesn't love surprise?? -Well, except Oprah. I still don't know the reason she always avoids surprise. Anyone?). Back to the O.P.I, my excitement became a joy when the package finally popped out in my study desk. So, I got 5 nail polishes with beautiful colors. Silver Shatter, Zom-Body To Love, Nail Envy, and 2 minis which I don't know the name, so let's just name them Mini Black and Mini Glittery Pink. I love love love what I received ;DD


At first I tried the silver shatter mixed with Zom-Body To Love. They didn't match at all. I didn't know what Zom-Body To Love was. I just thought that it must be because of the color-looks like monster's hand or frankenstein or troll's snot- and because of the name. Then I googled it, and voila! I knew that it's a glow in the dark nail polish. Awesome!
Then I mixed the shatter with the mini black and they were a perfect match. The shatter polish easily get dry and shattered quickly. It's very very cute! For the glittery pink one, the color is so soft so I try to mix it with my other pinky nail polishes (Will show you sometime).
Here are the Swatches.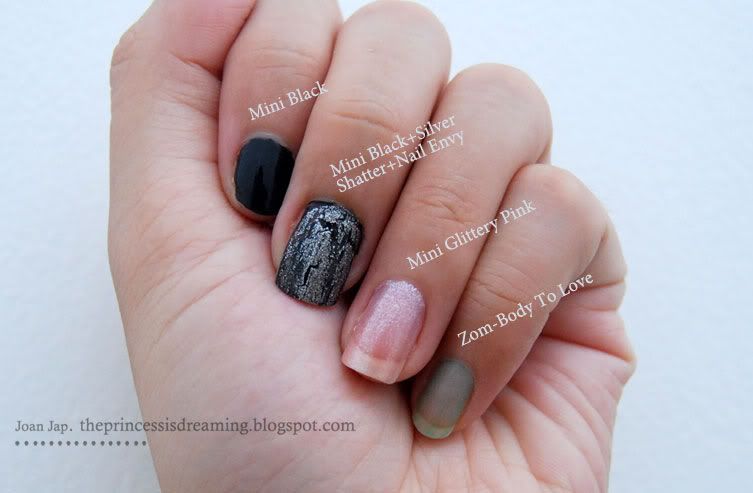 In that pic I only use a coat of Zom-Body To Love. But if you want to get the glow in the dark effect, put some more coats. In other words, let me make some conclusions:
1. Silver Shatter: Quickly shattered and dry. Will be a perfect match with dark colors.
2. Zom-Body To Love: Glow in the dark. Try to put some coats, so in the day light you can see it green.
3. Mini Black: Put 2 or more coats to achieve dark solid black.
4. Mini Glittery Pink: Soft color, solid glitter.
5. Nail Envy: Claims to be a nail straightener, good for top coat.
I'm absolutely love this giveaway. So, don't forget to visit both Stella's blog and Dunia Kutek's website and blog. Gotta love their beauty thingy (:
Till next time, nail lovers!}